Workshops for Adults
As one of the few full-time illuminators in the UK, passing on my skills is vital if this traditional craft is to continue. A list of my current workshops can be found below. I do hope there is something that interests you.
'Meet the Manuscripts' and create your own illuminated letter – an introductory workshop at Lincoln Cathedral.

A rare opportunity to turn the pages of medieval illuminated manuscripts usually kept behind locked doors.
This workshop only takes place once or twice a year. 2018 dates will not be planned until next April when the Library re-opens.
To read more, click

here

.
---
Introductory medieval manuscript illumination workshop.
During this workshop you will learn to apply gold flat on the page, producing an illuminated letter or simple design, such as those in the photo below, by the end of the day.
2018 dates: February 17th (sold out), April 25th, September 15th, November 7th.
For more more information and a link to online booking, click

here.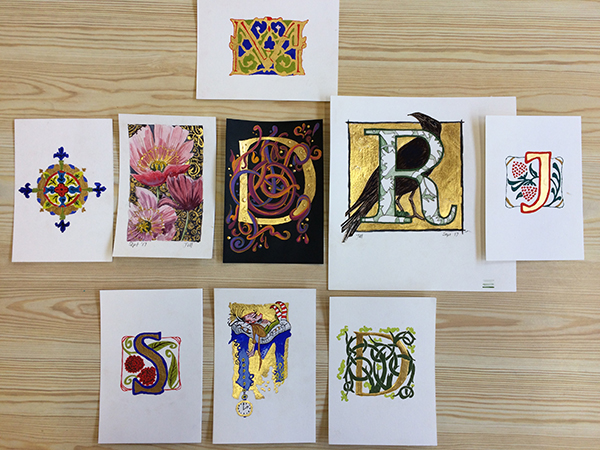 ---
Advanced medieval manuscript illumination.
2018 dates: March 14th, October 6th
This workshop will focus solely on the use of manuscript gesso and loose leaf gold. Raising the gold on gesso means that it can be burnished to a high shine. It's slightly more tricky, but well worth the time learning the skill as it gives beautiful results.

For online booking and more information about what is included, please click

here

.
---
Longer Manuscript Illumination workshops – beginner and more advanced.

If you have the time, a course lasting several days is an ideal way to either learn new skills or have the opportunity to refine those learnt previously.  In our busy lives, protected time is something to be cherished!
Click

here

for residential workshops at Higham Hall, Cumbria.
---
Extracting Pigments from Rocks and Plants
2018 May 12th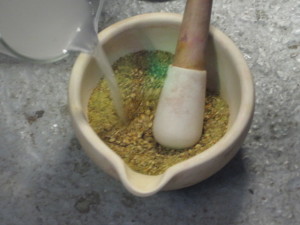 The earth is the source of the pigments used in the great paintings of the past: extracting pigments and making them into paint was a part of any artist's practice. This workshop will introduce you to this traditional skill, transforming plants and minerals into jewel-like colours.
For more details click

here.
---
Feedback from previous courses is overwhelmingly positive:
'Could not have been better'.
'I wouldn't have believed that I could produce something that beautiful. I'm thrilled.'
'It was a joy'.
'Thank you very much for doing the workshops last week – I've had great feedback from all the students about how much they enjoyed it'.