Workshops
Introductory Medieval Manuscript Illumination Workshop, Lincoln Cathedral – Thursday 7th September

During this day in Lincoln Cathedral's beautiful Wren Library you will have the chance both to meet some of the Cathedral's own medieval manuscripts and create your own illuminated letter using 24 carat gold leaf and pigments.
This day is designed for those with no previous experience of manuscript illumination. No artistic skills are required (although creativity is welcomed!) as there will be a selection of medieval designs to copy. Gold leaf will be applied flat to the page using a range of traditional and modern glues.
Timetable for the day
10am Meet at the Wren Library (please note: the Library is up a flight of stairs and there is no lift).
10 – 11am Meet the manuscripts with Julie Taylor, Cathedral Librarian. If you wish to turn the pages of these precious books please ensure that your hands are clean and non-greasy and that you are not wearing nail varnish.
11 – 11.30am Coffee / tea (included)
11.30am – 1pm An introduction to manuscript illumination with demonstration and tuition by Toni Watts, illuminator.
1 – 1.45pm Lunch break. Feel free to bring a packed lunch or purchase food from the coffee shop downstairs
1.45 – 4pm Work on your own illuminated designs. By the end of the session you should have a small completed piece to take away with you.
The Wren Library is sometimes a little chilly – it may be useful to wear an extra layer or two.
Proceeds to Lincoln Cathedral Library.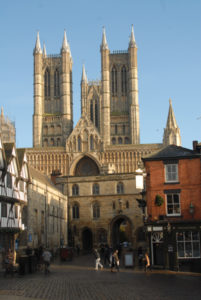 Cost £60 – click here to book.
Paymnt can be made by card or through PayPal.
PAYING BY CARD:
Go to cart – click on checkout – add an address (irrelevant, but the system won't let me miss this step out!) – select PayPal (the only option) and click continue – the next section confirms your order – click 'confirm order' – this will open PayPal where you will find an option of entering your card details or logging into PayPal. Please email me on toniwatts@live.co.uk if you have any queries.
Introductory medieval manuscript illumination workshop, Lincoln Heritage Skills Centre.
During the morning you will have the opportunity to practice applying gold leaf flat on the page using a number of traditional and modern 'glues'. Having honed your skills, during the afternoon you will complete a small medieval manuscript painting in watercolour and gold leaf to take home with you. No design / drawing skills or experience necessary although creativity is welcomed! There will be a choice of medieval designs for you to choose from should you wish to do so and all materials are provided.
September 20th 10am – 4pm
October 21st 10am – 4pm
Online booking is here.
Advanced medieval manuscript illumination, Lincoln Heritage Skills Centre – new date
11th November 2017. This will focus solely on the use of manuscript gesso and loose leaf gold. Raising the gold on gesso means that it can be burnished to a high shine. It's slightly more tricky, but well worth the time learning the skill as it gives beautiful results.
Click here for online booking.
Manuscript Illumination – Higham Hall, Cumbria
This workshop ( 22nd September 2017 18.30 – 24th September 2017 13.30) combines the two workshops above, allowing participants to both apply gold flat on the page and raised on manuscript gesso.
Many consider Higham Hall to be the UK's best independent residential college providing a range of open learning experiences for adults. All meals are included in the course fee and, speaking from experience, the food is both delicious and plentiful!
Details are here, phone Higham Hall on 017687 76276 to book.
In 2018 I will be running two courses at Higham back-to-back. The first (31st January – 2nd February 2018) is the 'manuscript illumination' course, above. The second (2nd February – 4th February 2018) is 'further manuscript illumination', the focus being solely on improving participants skills in the use of manuscript gesso and loose leaf gold.
Update 14/ 8/ 17 – The courses at Higham, above, are fully booked. New dates in 2018 are:
Sun 23 Sep 2018 18:30 – Tue 25 Sep 2018 13:30 – introductory manuscript illumination.

Tue 25 Sep 2018 18:30 – Thu 27 Sep 2018 13:30 – further manuscript illumination
Extracting Pigments from Rocks and Roots, Lincoln Heritage Skills Centre.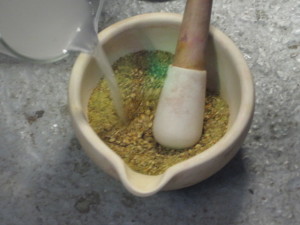 The earth is the source of the pigments used in the great paintings of the past: extracting pigments and making them into paint was a part of any artist's practice. This workshop will introduce you to this traditional skill, transforming rocks (a local stone and a semi-precious rock such as Chrysocolla) and plants (Persian berry or Madder) into beautiful watercolour, tempera and oil paint..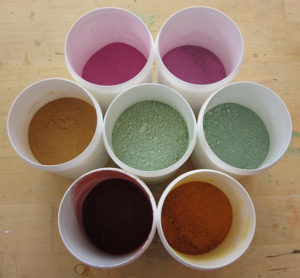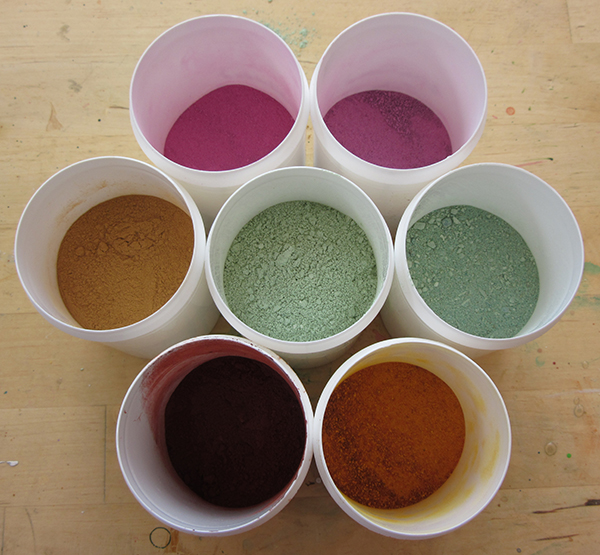 Date / Place – 25th October 2017. Online booking is here.
Feedback from previous courses is overwhelmingly positive:
'Could not have been better'.
'I wouldn't have believed that I could produce something that beautiful. I'm thrilled.'
'It was a joy'.
'Thank you very much for doing the workshops last week – I've had great feedback from all the students about how much they enjoyed it'.