About Toni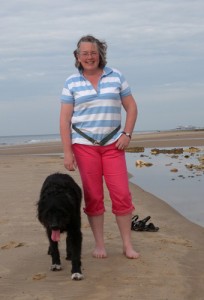 Following my year as Artist in Residence I am delighted to remain at Lincon Cathedral as manuscript illuminator.
My work in celebrating the Cathedral's history, function, place in the wider community and the craftspeople who are vital to its upkeep continues. These pieces are inspired by medieval manuscripts and use all the techniques that would have been used by the illuminators and painters of the Middle Ages. It has taken me many years to fully master these skills, including the application of 24 carat gold leaf both flat on the page and raised on manuscript gesso, drawing in metalpoint and painting in egg tempera.
Materials are vital: using pigments from the earth, the same pigments that have been used for a thousand years, grounds the traditional work in both history and place. I extract my own colours from rocks, roots and berries where possible, making them into paint through a process of grinding and adding an appropriate binder. I also make inks from oak galls and walnuts.
Whilst traditional work is done with traditional pigments (the re-creation of medieval manuscript pages, for example), my new designs sometimes utilise vibrant modern colours.
My work has been presented to HRH The Duke of Gloucester and is private collections across the world. I have been awarded the Diploma in Traditional Art from The Prince's School in London and have learnt from some of the few master illuminators in the UK. I hope, in my turn, to contribute to the survival of these wonderful traditional skills and currently teach, lecture and exhibit throughout the UK.