A Book of Hours and a Medieval Herbal
It's been a while since I posted new work here – not because there isn't any new work but because there is so much work to be done that I haven't got around to writing about it!
I thought I would show you a couple of pieces which show the contrast between my very traditional work – re-creations of pages or illuminations within Lincoln Cathedral manuscripts – and the images of my own invention.
This is a traditional one. It's a direct copy of a page of a beautiful little Book of Hours which is held in the Cathedral. I've tried to light it unevenly in the photograph it so that you can see the light playing on gold. It is 105 x 72mm, created on manuscript vullum with 24 carat gold leaf and traditional inks and pigments.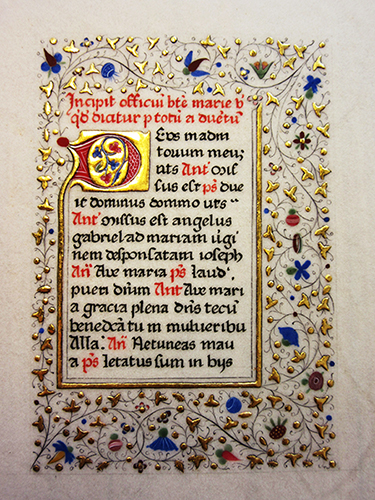 One of the first manuscripts I looked at during my residency was The Thornton Romances, which dates back to the fifteenth century. In the back of this manuscript is a herbal, the Liber de Diversis Medicinis. Recently I found a book by Margaret Sinclair Ogden which helped me make sense of the text, which as you can see, is both difficult to read and understand.

The text above is a remedy for 'euyll at pe hert' (ills or diseases of the heart – or maybe stomach, according to Ms. Ogden). The original author suggests that you should
'tak pe rutes of fenkell, pe rutes of percell, pe rutes of horsehelm, pe rutes of radik, pe lefes of longe de cerfe, lyuerworte, centorie, mogworte, modirworte, waybrede, puliol, nept, mynt, fifleues and saueray, of ilkan a handfull, and do per-to a little sawge and wormode and pe flour of violet or pe leues and pe flowers of pe roses and a vnce of licorece or mare and hony and, if he or scho be feble, do per-to mare hony to mak it swettere pat pay may better drynk it'.
The image that I have painted shows many of these ingredients – fennel, parsley, radish, pennyroyal, mint, savoury, licorice, roses and so on – growing in a medieval garden complete with gilded bees and hive taken from Lincolnshire's Luttrell Psalter. And, because no series of medieval paintings should be without one, there is a unicorn in the distance. Unicorn horn was considered to have many therapeutic properties, protecting against convulsions and epilepsy and being used to cure fevers, plague, and bites from mad dogs and serpents, amongst other things.
Painted in egg tempera with 24 carat gold and shell gold. Image size 24 x 14.5 cm, framed sixe 45.5 x 32 cm.