A difficult end to 2014, new plans for 2015!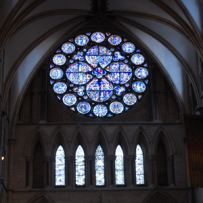 The perils of old age…
It's hard to believe that we are on the verge of a new year already. The latter stages of 2014 were fairly grim. My father (87 years old) fell and sustained a 'life and limb threatening' fracture of his thigh bone. He was operated on by two first-rate consultant surgeons in Derby and survived against all the odds to tell the tale, had a long period of inpatient rehabilitation and came home…only to fall again ten days later with a heart attack thrown in for good measure leading to a further prolonged period of hospitalisation. The daily round trip to see him takes me a minimum of six hours, but he is adamant he will not leave his house, which I absolutely understand. My apologies for abandoning this blog (and  facebook, twitter and the like)  but I'm sure you would all do (or have done!) the same under similar circumstances. However – the really important thing is that he is home again and enjoying both his TV and all the festive food I can provide him with!
A delightful commission
The commission I really enjoyed doing during this somewhat thorny period was to produce an illuminated manuscript inspired painting of St Hugh and his swan. Hugh became bishop of our local cathedral in Lincoln in 1186. The building had been extensively damaged by an earthquake the year before, and Hugh set about re-building it in the new Gothic style. He is said to have had a long friendship with a wild swan who not only followed him about and would eat from his hand, but guarded him whist he slept.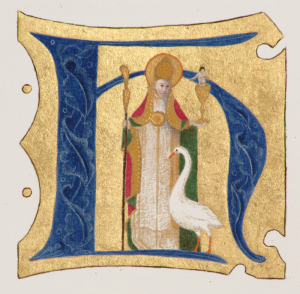 This painting measures a magnificent 6 x 6cm, with a background of gold leaf. The painting done in egg tempera using natural pigments, including lapis lazuli as the basis for the letter 'h'.
So – my plans for 2015?
As many of you will know, 2015 is a big year for Lincoln with the return of the Magna Carta and a very exciting exhibition running during the summer. I'm not sure how much I am allowed to say about the latter, but we have some extraordinary exhibits coming our way!
I'm hoping to produce a series of work during the year inspired by that wonderful Lincolnshire manuscript the Luttrell Psalter, produced in the fourteenth century, and also by our own cathedral. So, without more ado, I thought I would finish the old year by sharing some photos of this remarkable building as it was today, bathed in bright winter sunlight. Happy New Year to you all – may the coming year be happy, healthy and peaceful.