How to gild an illuminated letter using gesso – a workshop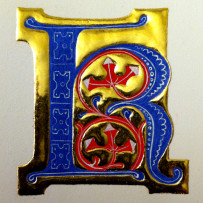 If you've ever wanted to know how to gild and paint illuminated letters and medieval miniatures, deal with real gold leaf, make and use manuscript gesso (allowing you to have raised, burnished super-shiny areas of gold in your designs – you can see my reflection in the illuminated 'K' to the left) then this course is for you.
I'm running a 2-day course in February – Saturday 14th and Sunday 15th February 2015 – at my studio in Welbourn, Lincolnshire. All materials are provided – vellum, pigments, brushes, gold leaf and burnishers – just bring yourself and plenty of enthusiasm!
Tea, coffee, soft drinks and biscuits are available all weekend. A light lunch is also included in the price (probably soup and homemade bread).
By the end of the two day course you will go home with your own initial letter or miniature painting, gilded and painted on vellum.
Classes are kept deliberately small so that I can help everybody individually.
Previous students have said lovely things about the courses I have run:
'Could not have been better'.
'I couldn't believe how much I achieved in such a short time!'.
'Thank you for a wonderful workshop yesterday, it has given me the kick start that I needed having not done much painting of late'.
Do come along – I'd love to see you!