Images from the Luttrell Psalter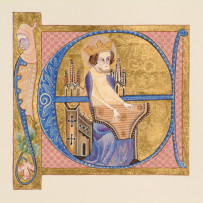 Some months ago I was asked by Lord Cormack, chairman of the Historic Lincoln Trust, to create a series of paintings based directly on images from the Luttrell Psalter. The British Library has loaned this magnificent fourteenth century manuscript to Lincoln for the summer so that it can be displayed as part of Lincolnshire's Great Exhibition.
Here is my series in its entirety. All are painted in egg tempera with, as far as is possible, historically accurate pigments. With the exception of Archers, all are gilded with 24 carat gold leaf. The majority will be on sale over the summer in conjunction with the exhibition, although I believe one is to be used as a presentation piece.
The exhibition is opened by H.R.H. The Duke of Gloucester next Friday. I'm looking forward to both the event and seeing the superb artworks loaned from national institutions and Lincolnshire country houses. Review to follow!