January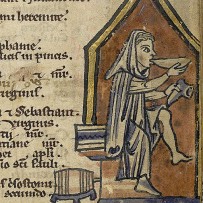 So, we welcome a new month and a new year. January used to be when we bought a calendar, which, with four of us at home, never seemed to have quite enough space for our separate comings and goings! Now the girls have fledged, I confess we have gone all high tech, and use the calendar function on our phones.
Calendars were altogether more beautiful in the medieval era. They were found in manuscripts, particularly in Books of Hours – Christian devotional books containing prayers and excepts from the Bible. Most of these calendars are headed by an illuminated 'KL,' for 'Kalendae,' from which we get the word 'calendar.'
The 'KL' heading is usually followed by a list of important church feasts or saints' days, the most significant being written in gold or red ink (hence the phrase 'red letter days'!).
Along with listing these important dates, many medieval calendars (particularly later ones) include a painting of the relevant sign of the zodiac, as well as a scene of the 'labour of the month.' These 'labours' were fairly standardised, and would have been instantly recognisable to a medieval audience.
If you look at the image above, you will see that January shows warming oneself by a fire, and feasting on rich food – I can definitely say we have done that over the last couple of weeks!
On the facing page there is a winter scene of people skating and sledging on a frozen river (not much chance of that in the rain-soaked UK). The little figure at the top is, according to the British Library, Aquarius, nude, with a pitcher of water.
This much earlier example
fits with the idea of 'feasting', but I have no idea what the significance of boot removal might have been….
And here's another, from around 1500, with a similar 'man sat by a fire' and naked Aquarius.
I hope January brings you no more difficult 'labours' than feasting and keeping warm, and that 2014 is happy, healthy, peaceful!