Lincoln Cathedral Stonemasons
Lincoln Cathedral is fortunate to have a team of skilled stonemasons. They are responsible for both replacing carvings damaged by the passage of time and creating new imagery which will be enjoyed by visitors in the future.
The image on the right is thought by some to be the thirteenth century master mason responsible for carving the Cathedral's beautiful choir screen.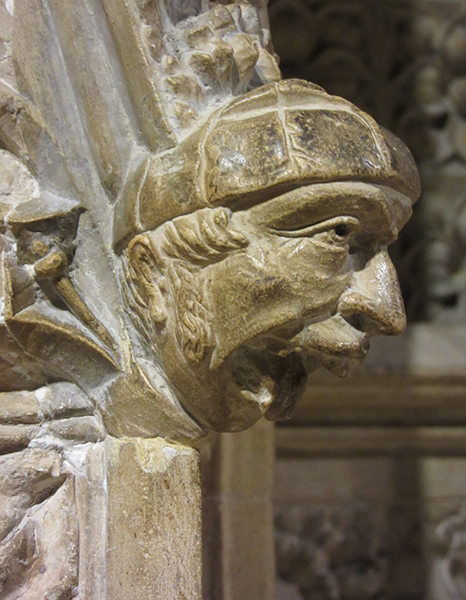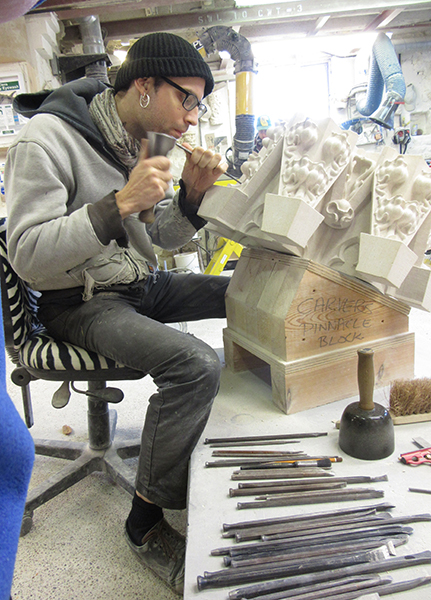 People often ask me how I create a new design. Well, it usually begins with a sketch like the one on the right – perhaps more of a scribble than a sketch!
I knew I wanted to incorporate some images of the progress of a stone carvng from initial block to finished piece. I wondered whether the design should be in the rough shape of a Cathedral pinnacle – broadly triangular – but couldn't quite get that to work. A hexagon seemed more visually pleasing and more appropriate, given the fact that the masons often start a new piece with a six-sided block of stone.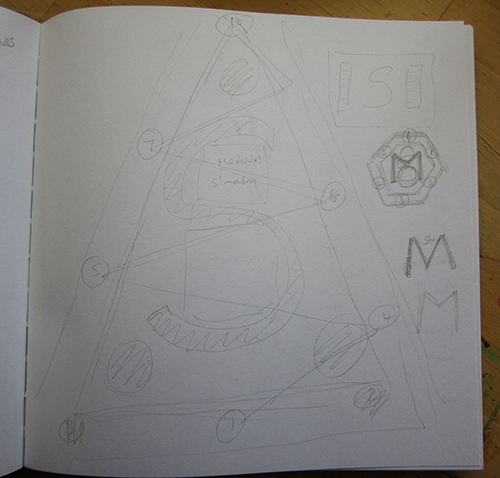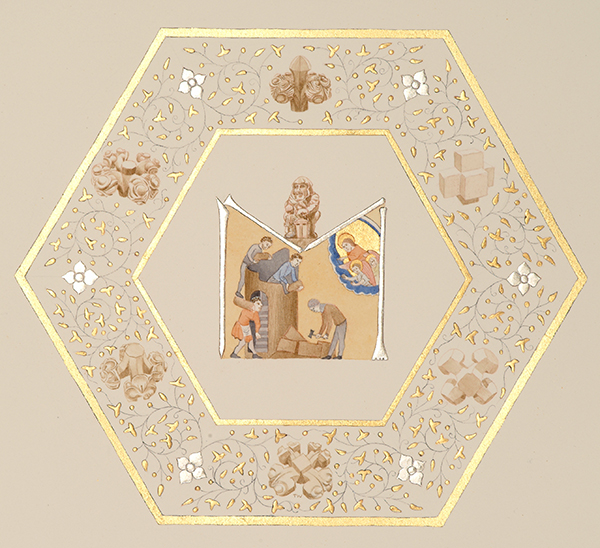 This is the final piece, measuring 19 x 21cm. The central 'M' for mason is made up of stone masons tools, gilded with white gold. The image under this is inspired by an medieval manuscript image of masons from Petrus Comestor's 1372 Bible Historiale. Sebastian, above, kindly provided me with 'work in progress' photographs of one of his carvings which you can see becoming ever more complex as they progress clockwise around the border. The border infill is created from 24 carat gold ivy leaves, commonly seen in medieval manuscripts, and white gold repeating shapes seen in the choir screen. Finally I added a picture of the carving of Stuart Boyle, the Cathedral's domus manager, immortalised in stone by Paul Ellis.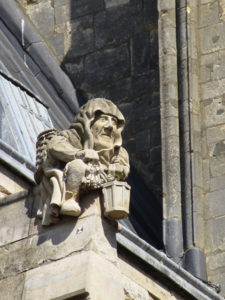 It's been an absolute joy spending time with the masons. Here are the two Pauls – Paul Booth and Paul Ellis – hard at work. I am hoping to get them doing some manuscript gilding and perhaps I will get to take chisel to stone one day!