Lincolnshire's Great Exhibition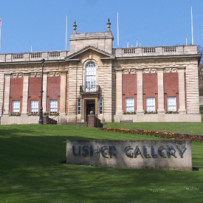 From June 27th to September 27th 2015 Lincoln will be hosting a unique exhibition. Across five sites – the Wren and Medieval Libraries of the Cathedral, the David P J Ross Magna Carta Vault, the Collection and the Usher Gallery – visitors will be able to see wonderful art associated with the county. The Historic Lincoln Trust has worked closely with the great public and private collections, with work being leant from the Royal Collection, the British Library, the Victoria and Albert Museum, the National Archives and the National Portrait Gallery, amongst others.
The Trust has asked me to display my work based on the Luttrell Psalter in conjunction with this exhibition, and I am delighted to play a small part in something so wonderful.
I will have around a dozen works of varying sizes on show (and for sale), including illuminated letters like this:
I have also been asked to produce a special presentation piece – more details to come when I am allowed to tell!
I'm told there will be no charge for the exhibition which will be open between 10am and 5pm every day. So if you'd like to see works by Turner, Lowry and Stubbs, the two volumes of Lincoln's Chapter Bible reunited for the first time in 400 years, Matthew Flinder's 1804 map of Australia, many other treasures never seen in Lincolnshire before (and unlikely to be seen here again) and some illuminated works done by yours truly, do come along.