Spring manuscript illumination workshops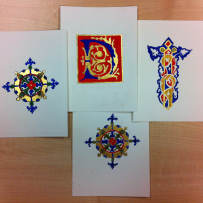 I thought I'd just give you a quick update on my latest manuscript workshops.
The manuscript illumination 'taster session' at the Heritage Skills Centre, Lincoln Castle, on March 7th is now fully booked.
However, I'm running the same workshop at Longthorpe Tower in Peterborough on March 28th.  The tower is a surviving part of a 14th-century fortified manor house, and contains the finest set of medieval wall paintings in a domestic setting anywhere in Western Europe – what a fantastic venue for a manuscript illumination workshop! Booking details are here.
I'm also running an 'illuminated letter' workshop at Ruddocks, the art shop in Lincoln, on April 13th. This gives you the opportunity to design and gild your own letter. I'll bring plenty of examples to give you inspiration, but the world is your oyster for this one! This is a great opportunity to create something unique for yourself or for a lovely gift. Details of how to book are here.
All these workshops last just one day and are a great introduction to medieval manuscript illumination using both traditional and modern techniques.
I also run a two day, more advanced workshop where participants learn to make and use manuscript gesso. Gesso is used to create raised areas within a design – gold leaf applied to these areas can be burnished until it has a high shine. Do sign up to my mailing list so that I can let you know when the next advanced workshop is taking place.