The Framing of 'Illuminations' for Lincoln Cathedral
So many people have asked me about the framing of my 'Illuminations' exhibition at Lincoln Cathedral that I thought I would write a little about how it was done – and the person responsible.
When I knew I was going to have an end of tenure exhibition in the Chapter House at Lincoln Cathedral, there was only one person I wanted to frame it – Mal Reynolds of Harlequin Frames. He is, in my opinion, one of the best picture framers in the country, combining great practical skill with artistic vision.
Mal and I decided at the beginning of my year as artist in residence that all the frames, with the exception of the Lincoln Cathedral Triptych, should follow the same design and use the same materials. We chose a gold moulding which, with its red ochre inner rim, really complimented both the gold leaf and shell gold in the paintings.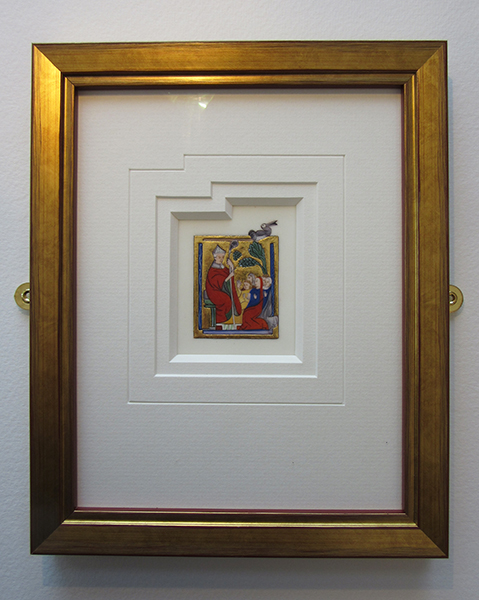 I can take no credit for the mount design. It was Mal who suggested the combination of a deep inner mount and a shallow outer, both in in a neutral colour that would not detract from the vibrant gold and pigments. The bevel angle of the inner mount is steeper than that of the outer, which has the effect of both leading the eye into the picture and accentuating the total depth of the mount. All clever stuff!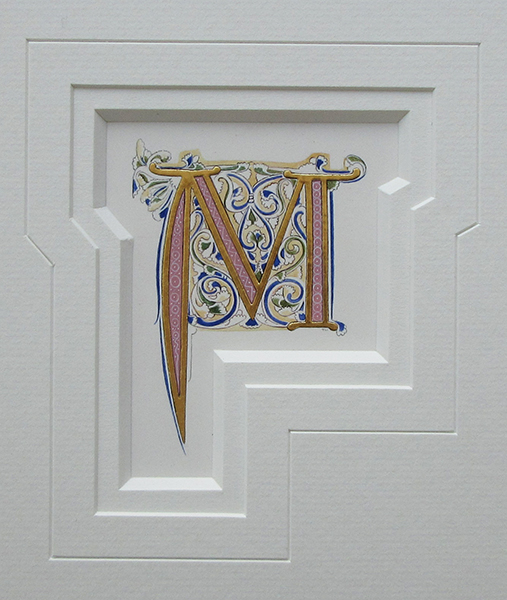 We thought hard about the glazing, deciding in the end to use Arqadia's 'Clarity', an invisible, water white and anti-reflective glass. This specialist glass reduces reflections to less than 1% and allows viewing of artwork as intended, showing the colours without distortions. The design was finished off with a 'V groove', following the contour of the aperture.
It was in the individual mount designs that Mal really shone. A picture says a thousand words, so here are just some of the beautiful shapes that Mal has managed to cut.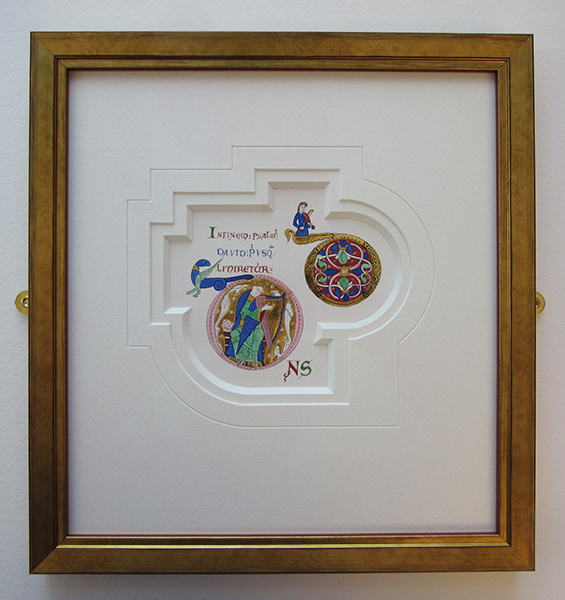 All are cut on a Valiani Supreme, a computerised mat cutter. There will be an article in the Fine Art Trade Guild's Art and Framing Today magazine giving more technical details for those who are interested.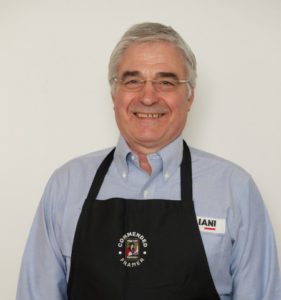 Guild Commended Framer
Guild accredited trainer at both basic and advanced level in Textile, Conservation and Memorabilia framing.
Chair of the Fine Art Trade Guild Framing Standards and Qualifications Committee.