The Trondheim Pillars of Lincoln Cathedral
It was Heather Chapple, Cathedral guide, who told me about the 'Trondheim' pillars. Situated at the western crossing of Lincoln Cathedral, these pillars are stylistically unique in the British Isles and found only in one other Cathedral – Nidaros Cathedral in Trondheim, northern Norway.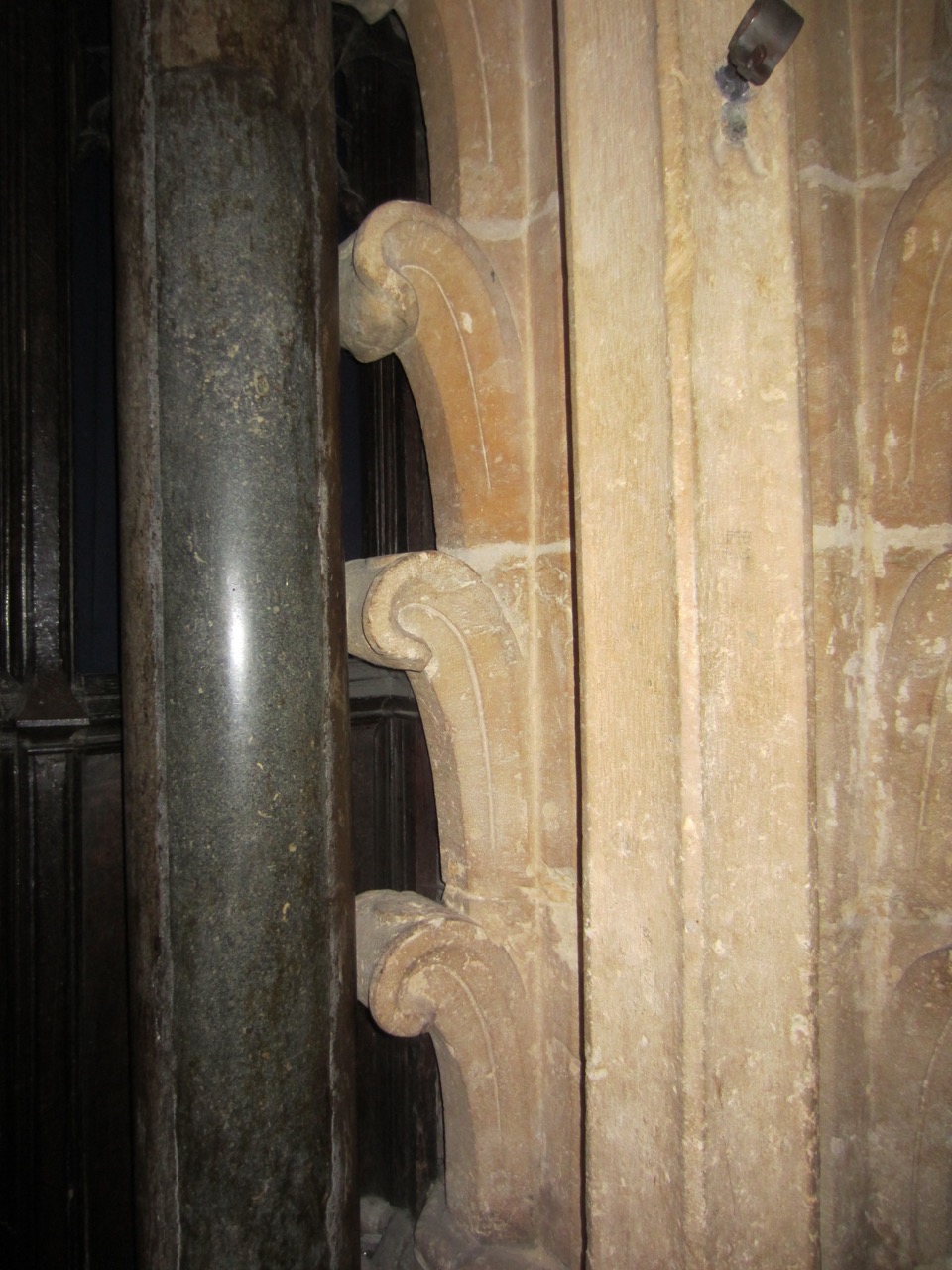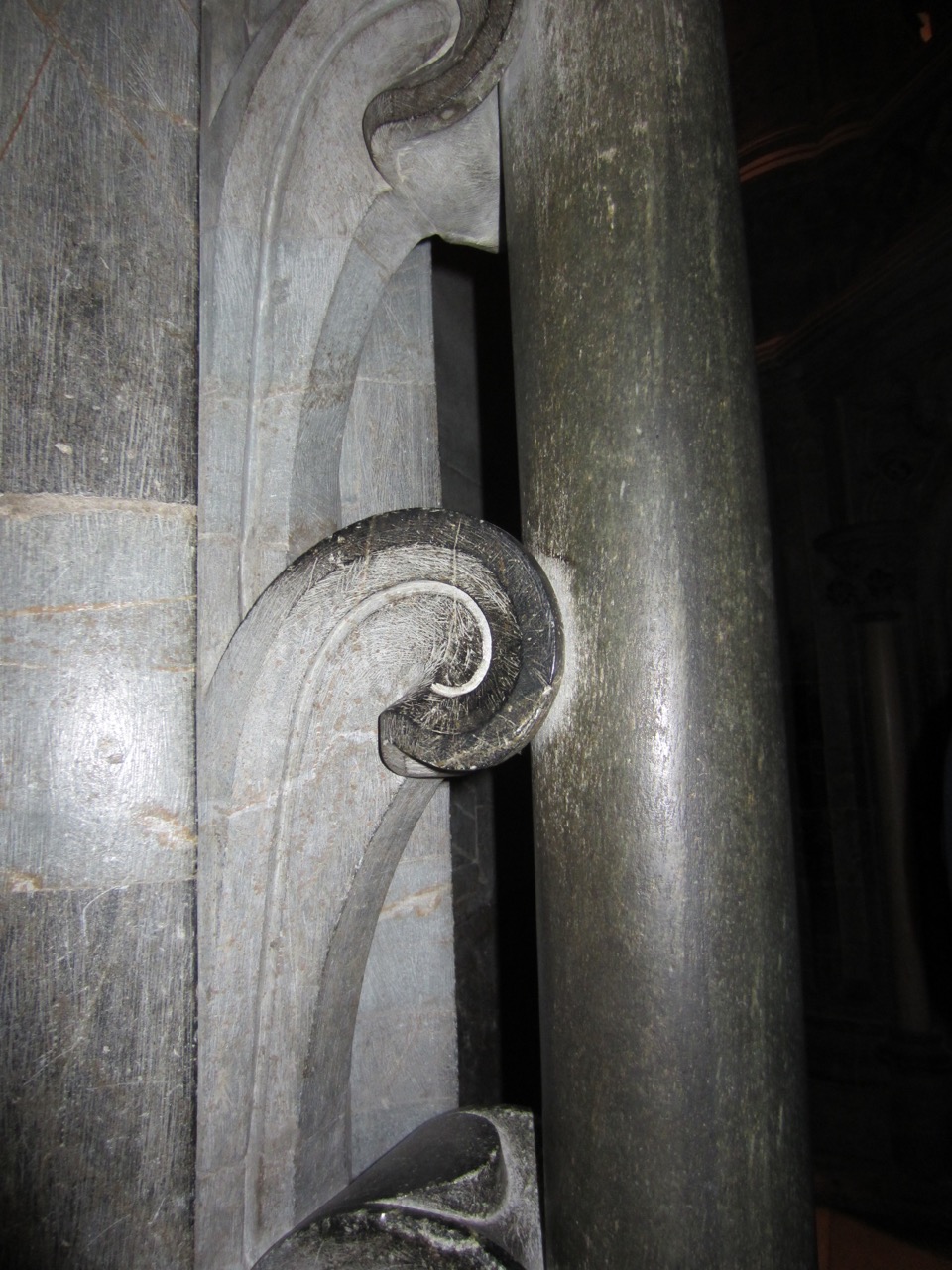 Seen side by side, the similarities are obvious – the pillar in Lincoln seen on the left here, the grey stone of Nidaros on the right.
Both photos: Heather Chapple.
Nidaros Cathedral is the world's northernmost medieval cathedral, built over the grave of St. Olav, Norway's patron saint. Construction started in 1070, but the oldest parts still in existence are from the middle of the twelfth century.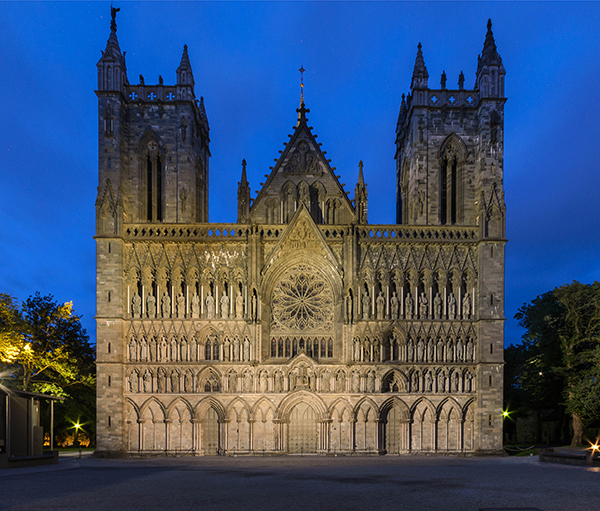 There seems little doubt that there was a relationship between Lincoln and Nidaros in the medieval era, although it is impossible to prove that the same masons worked on both sets of pillars.
However, medieval trade between England and Norway is well documented and I decided to create an illuminated page in celebration of our shared past.
Trade between the two countries was extensive, with shipments of dried fish, malt, honey, cloth, rope, salt, spices, lead, furs, horns and wheat all being recorded. Falcons were also exported from Norway, the valuable gerfalcon sometimes utilised as a diplomatic gift.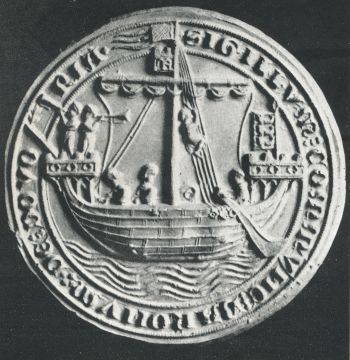 There was no culture of illuminated manuscript production in medieval Norway. In their absence, these images inspired my design – an image of a ship from an English medieval seal, and the beautiful wood carving of Urnes Stave church in Norway, built in the 12th and 13th centuries. Photos: Heraldry of the World and Unesco.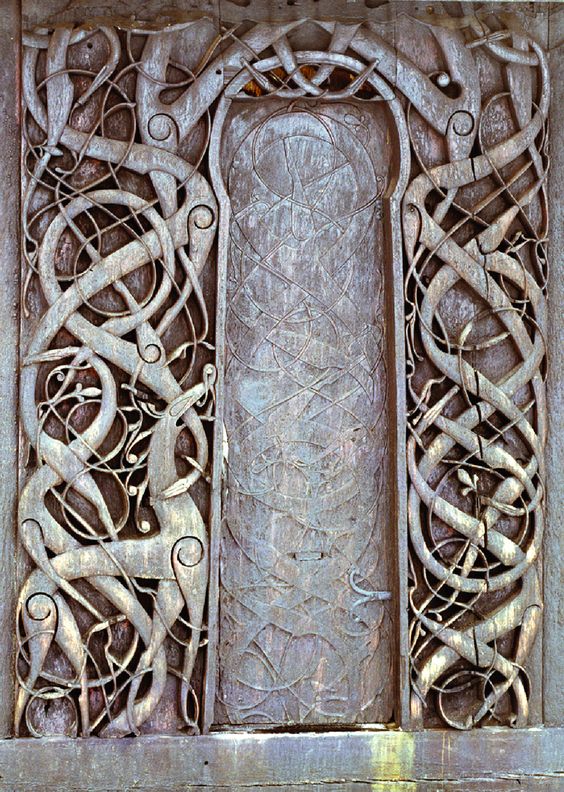 Here is the painting that resulted, the items that were traded forming part of the gilded design.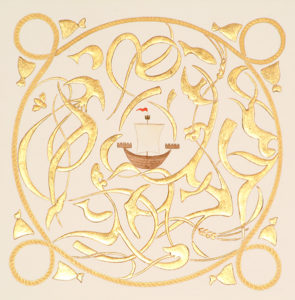 24 carat gold on gesso, selectively burnished shell gold and watercolour.
Image size 12.5 x 12.5cm, framed size 33 x 32cm
It has been a joy learning a little about the history of Norway, a country I must revisit soon.
Thanks not only to Heather, but to her Norwegian friends Margot, Berit and Karin who kindly went out of their way to help me with my research.