Visiting Blackwell Arts and Crafts House
Last weekend saw us up in Cumbria visiting Blackwell, an Arts and Crafts house around three miles from Windermere and one of our favourite places.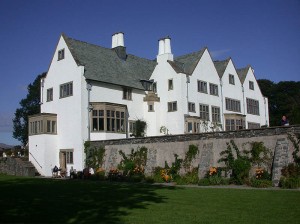 What was the Arts and Crafts Movement?

The Arts and Crafts Movement was basically  a reaction to the industrial revolution. It was championed by John Ruskin (1819 – 1900) and William Morris (1834 – 1896), amongst others, who believed that Victorian mass production resulted in 'shoddy wares' and degraded the worker. They advocated a simpler life, where the importance and worth of individual designer-craftsmen was understood, and homes were places of harmony and beauty.
A brief history of Blackwell

The house was designed by MH Baillie Scott as a holiday home for his client Sir Edward Holt, a Manchester brewery owner, in 1898. The Holts visited Blackwell regularly until Joseph, their eldest son, was killed at Gallipoli in 1915. After that, visiting the Lake District lost its appeal. The house was then leased out, the advantage of that being that no significant changes were made to the building.
During the Second World War it was used as a boarding school: the photographs of that time (complete with the hall being used as a gym!) can still be seen in the house.
It was bought by the Lakeland Arts Trust in 1999 and restored at a cost of around three million pounds.
What can you see there?

The house stands on the hillside overlooking Windermere and the Coniston fells. There are terraces (a great place for a cuppa in the summer!) and simple gardens, but the highlight is the interior.
It's a peaceful house, even with visitors wandering around. Window seats are there to be sat on whilst you soak up the atmosphere, and there is craftsman made stained glass, carved panelling, intricate metalwork and plasterwork and beautiful tiles at every turn.
So, without more ado, here are a few photos to tempt you to visit…



The food in the café is freshly prepared and yummy, and there's a small shop.
But most importantly, Blackwell itself is a visual feast – go and visit if you can.