A painting of butterflies – The Fritillaries of Barkbooth Lot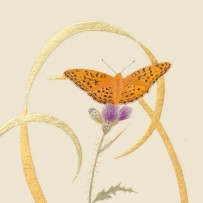 This painting of butterflies will be on display at Castle Park Arts Centre in Frodsham between 11th April – 18th May, alongside my new painting of a Little Owl. For details, do have a look at the Association of Animal Artists website.
This work was inspired by the butterflies at Barkbooth Lot, a beautiful mixed oak and alder woodland with attached grassland, managed by the Cumbria Wildlife Trust. We were especially lucky to see the High Brown Fritillary there last summer, a butterfly which has suffered a 90% decline in its numbers since the 1970s.
The original idea for this piece owed something to the shape of meadow grasses in the heat of the summer and something (in design terms) to art nouveau, but evolved to represent the surrounding of these butterflies with our protection – and the fragility of their place within that network. The flowers are all used by the butterflies pictured.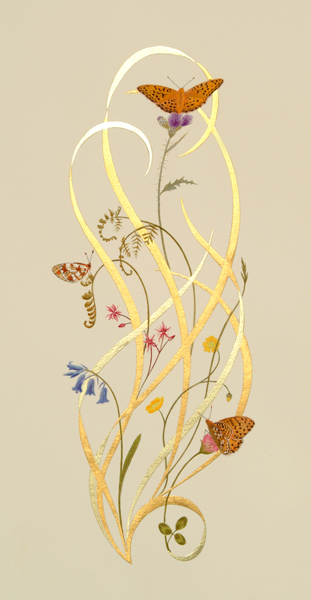 I have used two colours of gold leaf – 24 carat yellow gold, and green gold, both applied traditionally using gum ammoniac as mordant. The difficult part came when gold abutted green….
The painting is done in egg tempera. My aim was to do this painting in wholly natural pigments, which I almost managed – but confess to a little cadmium yellow for the buttercups and highlights on orange wings, and some cobalt violet dark for the thistle heads. To be honest, I think I could easily have mixed the purple easily – I was just seduced by the colour of the pigment in the bag! I still haven't found a natural pigment which gives me a bright warm yellow, but I will do some more research. If anybody out there has found one (that is not fugitive), please do tell me.
Other colours used are – minium (or red lead), lead white, azurite, raw sienna, terra verte, burnt umber and cochineal. The support is HP watercolour paper and is actually a very pale cream in colour.