Talks
Talks for groups – please contact me to discuss your particular requirements.
The Making of a Medieval Illuminated Manuscript.
An hour long illustrated talk covering all aspects of medieval manuscript creation – vellum manufacture, inks and quills, gilding, extracting pigments and making them into paint.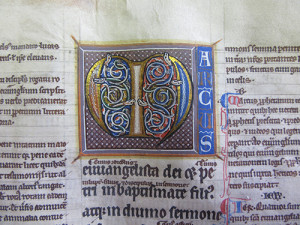 Thank you so much for arranging the talk this morning. Toni was absolutely riveting, and I only wish I could remember a quarter of what she told us. It was a wonderful lesson in illuminated manuscripts, and hopefully we can pass it on to our visitors over this year.
Colour and Culture
From medieval manuscripts to interior design, bandages to ballgowns, Napoleon to Austen: a lighthearted exploration of the joys (and dangers!) of living in a world of colour. What does colour mean to us – and what did it mean in the past?
One hour.