Indian Peacock.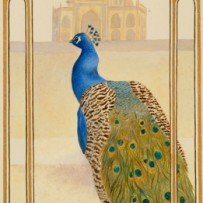 An elegant Indian Peacock with shimmering tail feathers created from blue coated silver leaf and gold ink.
The frame is pure Art Nouveau, apart from the top border, the design of which was adapted from Indian architecture. The background building is, of course, the central section of the Taj Mahal.
And here it is, full length and clickable.