Geoffrey Luttrell and the Luttrell Psalter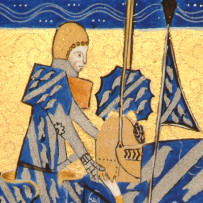 Here's a piece I'm working on at the moment, inspired by that wonderful Lincolnshire manuscript, the Luttrell Psalter.
The psalter, or book of Psalms, was commissioned by Sir Geoffrey Luttrell in the fourteenth century. This manuscript was not the first to include scenes of contemporary rustic life, but such an exceptional number of detailed images is unusual. Many of the images are humorous, and, according the British Library, 'provide a virtual 'documentary' of work and play during a year on an estate such as Sir Geoffrey's'.
So, by way of introduction, here is Sir Geoffrey with his wife Agnes Sutton and daughter Beatrice Le Scrope, all identified by their heraldic surcoats.